Says FORBES magazine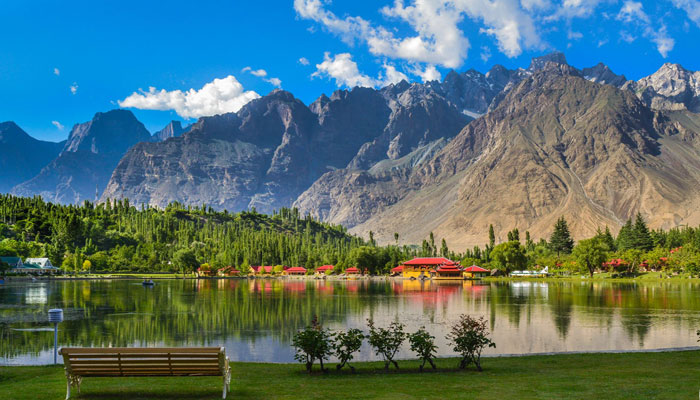 Tourism plays a significant role in boosting the economy. But Pakistan has remained far behind, although it has immense potential in the tourism sector.
UN's general secretary Mr. Antonio Guterres has said: "Every day, more than 3 million tourists cross international borders. Every year, almost 1.2 billion people travel abroad. Tourism has become a pillar of economies, a passport to prosperity, and a transformative force for improving millions of lives."
There is no doubt that tourism is an economy-enabling industry. Tourism industry contributes $1340 billion (10.2pc global GDP) in the global economy annually. Of this, Europe's share is 39 percent, Asia and Pacific 29 percent and America 24 percent.
In 2017 the US, Spain and France earned $211, 68 and 61 billion respectively. The same year, 35 million tourists visited Thailand which earned about $40 billion. Besides, China, Turkey and India received 60, 37and 1 million tourists respectively.
Pakistan is deemed to have enormous tourism potential. Pakistan inspires tourists from all around the world for ecotourism, cultural, rural, adventure, urban, mountain, and religious tourism. Forbes magazine in December last year said 'Pakistan is amongst 10 coolest places to visit in 2019.'
The World Tourism and Travel Council say that direct tourism's contribution to Pakistan's GDP is only 2.7 percent.
According to Pakistan Tourism Development Corporation, only 1.7 million tourists visited Pakistan in 2017. Of them 30 percent were domestic. According to the Travel and Tourism Competitiveness Index 2017 launched by World Economic Forum Pakistan ranks 124 out of 136 countries. In visa requirement ranking Pakistan has been put at 135 out of 136 countries, and government giving priority to tourism and travel industry has been ranked at 132 out of 136 countries. Tourism can be a mainstay for Pakistan's economy as it is doing in the world's other countries. It is an avenue for investment, business opportunity, and a great tool for wealth and employment creation. It is estimated that each year Pakistan can earn $20 to 40 billion from tourism industry and more than one million people can get employment.
The incredible natural beauty of Pakistan makes one enthralled and captivated. On one side, snow-clad sky-touching mountains, huge glaciers, vast green grasslands, tree-attired hills and on the Says FORBES magazine Murtaza Talpur "Pakistan is amongst 10 coolest places to visit in 2019" other, beautiful-looking brown-capped mountains, thousands acres spread of mesmerizing sand dunes, glittering mounds of sand span thousands of acres. Apart from it, eye-catching sea views, lovely landscapes of rivers, heart-touching sceneries of lakes and lagoons are all a delight to the eye.
Besides, Pakistan has rich potential cultural and religious tourism based on sites like Moen-Jo-Daro, Taxila, Makli necropolis, Takht-i-Bahi, etc. Every city from Baltistan to Badin depicts rich and splendid cultural history. Shrines of Sufi saints in Punjab and Sindh, including Baba Bulleh Shah, Ghulam Farid, Lal Shahbaz Qalandar, Shah Abdul Latif, and Shah Inayat tell stories of a glorious psst. In KP historical remains and temples of Buddha are a feast to the eye.
Tourism promotes exchange of ideas, cultures, values, traditions, innovations and learning. It brings nations closer. It promotes social inclusion, interaction and collaboration among people globally. It improves inter and intra provincial relations and networking.
According to the UN, "Tourism plants the seeds of understanding between peoples, promotes every nation's heritage and natural wealth, and contributes to strengthening peace in the world."
Tourism plants the seeds of understanding between peoples, promotes every nation's heritage and natural wealth, and contributes to strengthening peace in the world."
Terrorism and extremism in the past decade stood in the way of promotion of tourism. But now overall security situation has become better, and terrorism has been wiped out from the country.
The PTI government has taken some bold initiatives to promote travel and tourism in Pakistan, including e-visa facility for 175 nations and visa-on-arrival for citizens of 50 countries. Minister for Finance, Asad Umar recently tweeted "Portugal drops all travel advisories for its citizens coming to Pakistan. British Airways decides to resume flights to Pakistan. Victory against the terrorists bearing fruit of reducing isolation of Pakistan. Inshallah next summer will see record tourists coming to Pakistan." Before elections, PM Imran Khan said 'Promotion of tourism to strengthen the economy of the country will be among the top priorities of his party.
In fulfilment of this promise, the government has devised a new tourism policy. Side by side, the government must also search and develop new tourism sites and venues, including marketing and branding at global and national levels to fully utilize Pakistan's hidden tourism potential